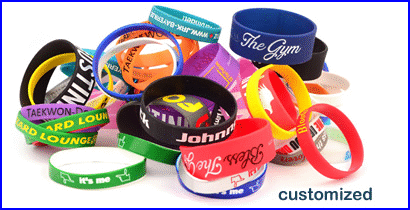 Wristband Producers in Lagos, Nigeria
Eloquent Gift specializes in making custom silicon wristbands in Nigeria. So if you are searching for where to make wristbands in Nigeria look no further as we make all types of hand band in Lagos Nigeria. We produce both embossed and debossed quality silicon wristband in Nigeria at a very affordable price. Debossed bands include your slogan or artwork "carved" in to the band, while imprinted bands feature your artwork printed across the band.
Custom rubber-like wristbands can convey support for a team or organization, advertise a business or brand, promote a political campaign or cause, commemorate an event or publicize a church. The promotional uses of custom bands are limitless, just like their fundraising or crowd control potential. Order customized bands for cancer support, awareness or memorials. You can even make your own event wristbands!
EloquentGift is your one-stop shop for the highest quality, endlessly customizable, 100% silicone (latex-free) wristbands and paper bands. Silicone is a rubber-like material that is more durable and more resistant to heat than naturally occurring rubber.
We make different types of silicon products ranging from Wristbands with USB, silicon key holders / key holder with USB, silicon mouse pads etc.