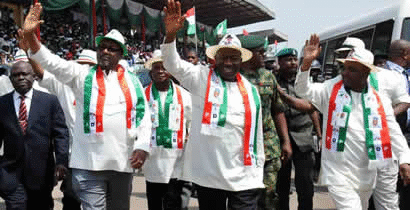 Political Campaign Branding Solutions
Eloquent Promotions has been a most trusted sales distributor of political signs and campaign promotional materials in Nigeria. We have built our business around the needs of political candidates and campaign organizers, specializing in durable, high quality political gifts, prints, signs, displays, digital presence and the widest assortment of campaign promotions, including election pens and pencils, labels, lapel pins, emery boards, banners, flags, tshirts, bumper stickers and magnetic bumper stickers plus many more items. Eloquent Promotions can provide any volume quickly and cost effectively.
We have PDP, APC and other political party materials printed with the party logo and candidates picture if required. Our quality production, fast turnaround and superior customer service ensures your order will be right the first time and manufactured to your exact specifications.
Eloquent Promotions' reputation is based on many successful election campaigns and satisfied customers. Our expert staff will make sure your artwork best serves your campaign needs or we will work with you to come up with solutions. With Eloquent Promotions, you're in the very best hands. Our caring professional staff is ready to take care of you during the busy election season.