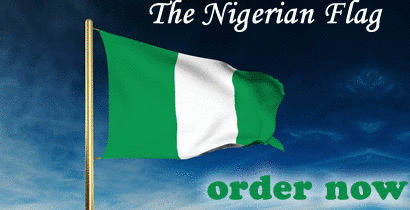 FLAGS, FLAGPOLES & BUNTINGS
We import and supply superior country flags in Lagos Nigeria. We also design and produce different types of flags including corporate flags, school flags, bank flags, advertising flags, political party flags, state flags and flagpoles of different sizes. We have the regular 3x5 ft national country flags of USA, Nigeria, UK, South Africa, Canada, Israel, China, Spain, Belgium etc. available in stock while the ones we don't have in stock can be produced in a week. Our flags are made of 110g polyester fabric material. We also have cheaper flags made of satin material. Our flags are manufactured to the highest standards.
We have a special price for bulk buyers.The Materials include Flag material, Polyester, Canvas or Textile. there is no limit on size (from large 20ft flags used at stadiums to medium size banners directing the eye of passersby in retail environments or small flags for tabletops or hand waving) all depending on the clients specifications.
We also offer installation and maintenance services to ensure flagpoles and banners are safe and immaculate and our fully trained team can provide you with hassle free solutions.