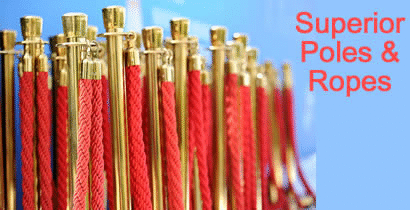 Crowd Control Stanchions/Queue Manager
We are a major supplier of crowd control stanchion in Lagos, Nigeria. Stanchions are ideal for organizing service lines and directing foot traffic. We offer crowd control or queu manager stands in two styles: classy posts with ropes and professional poles with retractable belts. Both stanchion styles feature an effective design and sturdy construction for use in any business.

This Stanchions Crowd control rope barriers is essential for live performance theaters, VIP areas, museums, banks, restaurants, ticketing offices and more to enable in the controlling of crowd. Customers or patrons appreciate stanchions for helping form lines to ensure a first-come, first-served process. Stanchions and ropes set up in a zig-zag pattern (as often seen in banks, retail stores or other places where longer lines occur), help to maximize floor area, keeping people neatly sorted in a smaller space than with traditional straight lines.
Features of our stanchions QueuePole include: Durable construction, Weatherproof, and Rust resistance