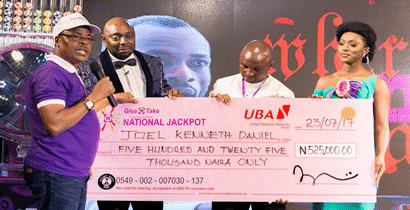 DUMMY CHEQUES
At ELOQUENT we produce great looking promotional Dummy cheques in Lagos, Nigeria. Looking for a really large promotional cheque like the ones you have seen on TV? We print all kinds of giant cheques for presentation occasions such as charity fundraisers, publicity events, awards, prizes and donation ceremonies. Oversized Checks sometimes called Giant Cheques, dummy cheques, mock check, or giant checks are used mainly at large presentations. They are often made of paper mounted on foam boards and used for any award or event. where you need to show the amount of money donated, received, lottery win etc.
If we talk about the size of the check, it would depend on the number of people that will be present at the time of presentation. It also depends on the location of the cameraman that how far is he from the main stage. If we take an example, we can go with the stadium like cricket or football. The oversized check size would work out better that how far your audience will be viewing it from. The ideal standard size for dummy cheques is 1.2m x 0.6m.
Whichever design you choose, a super size, giant presentation cheque creates the perfect photo opportunity! Simply choose your cheque design. Decide whether you want it to be blank so you can fill it in by hand, or if you'd prefer us to print the details such as the date and donation amount.