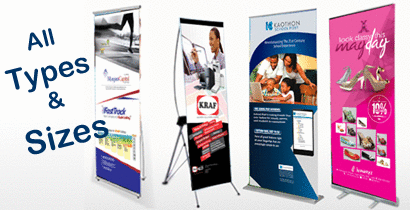 Roll up Banners and Stands
We supply a wide range of roll up banners, x-banners, L-banners and portable banner displays and all forms of large format printing in Nigeria. If you are looking for flex banner design and print company in Lagos or Nigeria, then you are in the right place. Our banner designs are eye catching with best print quality and an exceptional customer service delivery all offered on a highly competitive pricing.
Portable Roll-up Banners or standees are a simple, cost-effective way of displaying your product or service. They pop-up in just seconds giving you a large advertising banner display at a tiny price and the flexibility to easily move the pull up display around your premises. You can take it down in seconds and simply re-erect it at the next exhibition or retail location.
Whether you need slim or flat base roll up banner stands, or you want them printed on flex or solithe (PVC) material, we have them in stock. NB: Solithe material is superior to flex in quality and durability and therefore more expensive. Apart from the popular 3x7ft, we have other roll up banner sizes including 6x7, 8x7 and 10x7 feet. These bigger sizes are often used as backdrop banners in events to take pictures. We also have the A3(297x420cm) and A4(210x297cm) size table top roll up banners. As well as electric Roll up banners. Need to rent? Click here