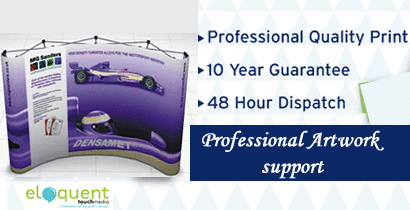 MEDIA BACKDROP & MEDIA WALL
Looking for media backdrop in Lagos Nigeria? Contact Eloquent Displays & Exhibition. You can now stand out from the crowd with our deluxe Media Backdrop frame pop up stand and big size roll up stand. Perfect for a range of scenarios such as sports tournaments, promotional launches, red carpet events and award ceremonies, the pop up stand displays repeat printed graphics and is available in a range of handy sizes.
You can either choose the roll up backdrop or the pop up backdrop type the difference being in the frame used. This stand is robust enough to withstand hazardous crowded settings where floor space is limited. The roll up type is available as both slim base and big base. while the pop up is available as curved or straight. They are available in 2x3m(7.5x10ft) and 3x3m(10x10ft). We also have 2x2m
What's more, our in house graphic design team can create your very own bespoke graphic print using your signature business graphics. And with stand spotlights to really dazzle and matching branded drum unit as handy optional accessories your showcase is complete. A lifetime product guarantee is included, so this is an item you can use time and again with confidence.