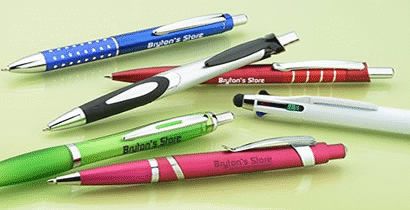 Branded Pen
EloquentGifts located in Ikeja, Lagos State Nigeria offers customized, personalized, printed, branded pens, promotional pens printing both executive and normal pen branding solutions for your business. Everyone loves a free pen, and by providing your customers and clients with a pen featuring your company name, logo, or message, you can be sure that your company name will always be on their mind! Moreso, people use pens on a daily basis, it would be a splendid motivational tool for your employees as well as a great promotional material to your clients.
Promotional Pens are used everyday. If you take the price per promotional pen and divide that by the number of times someone notices the imprinted logo or message, you will see the remarkable cost-effective financial translation of the promotional pens investment. Let your clients realize that you appreciate them by giving them something that meets their daily needs. You may use executive pens to positively enhance the image of your business, organization and institution. Boost your credibility today!
We Specialize in Promotional Pens , Engraved Pens, Business Pens, Custom Pens,Imprinted Pens, Logo Pens and Advertising Pens. We have the cheap and affordable plastic pens and the more expensive metallic pens.