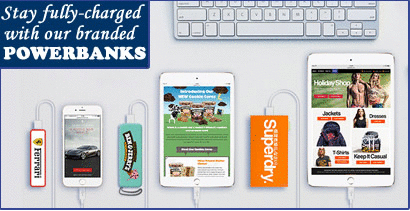 Branded USB Flashdrive/ Powerbank
We are proven experts in the delivery of branded tech gadgets including powerbanks and USB flash drives in Nigeria. Our experienced team will work with you to select and visualise the best USB memory sticks suitable for your project. Branded memory sticks come in a wide range of designs, sizes, colours and materials, and when branded with a logo they look stunning.

Branded Power Banks are the latest phenomenon to hit the promotional gift market. Their primary use is to recharge smart phones and other small portable electronic devices. Power Banks are small, lightweight and portable devices that are charged using a micro USB cable (supplied with each unit) and they can typically fully recharge a dead smart phone in less than two hours.

As a promotional product they are the ideal giveaway because they meet a real need, people are happy to carry them around and they are grateful when they use them. Power Banks look amazing when branded with a logo! Make credit card USB your business card.
Visit our gallery to see different types of flash drives and powerbanks