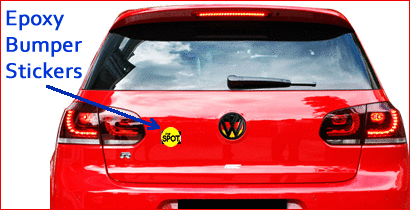 Car & Bumper Stickers
Eloquent Signs has everything you need to make and order custom stickers for your car. We make quality customized car stickers, magnetic car sticker, epoxy resin car stickers, bumper stickers and window graphics in Lagos Nigeria. Our products are weather-resistant, and available in high quality materials. We offer full car branding services too.
No one likes traffic, but you can at least make the most of it with custom bumper stickers. The cars and trucks your customers drive around provide a prime opportunity to spread your marketing messages. Bumper stickers from EloquentSigns support this perfect platform with high quality, clearly printed short form messages. Add your company's logo, telephone number, and web address.
If they're behind the wheel and sitting in traffic, sooner or later they've got to look straight ahead. Chances are they'll be staring at your bumper. Turn your car into a mobile marketing machine by ordering bumper stickers from us
Our magnetic stickers can be used on fridge as well. Magnetic car stickers are non-adhesive and therefore means a zero mess for your vehicle. They slap right on the car, stay securely in place, and can be moved around whenever you want. No cleaning required.