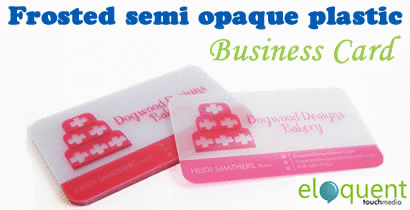 Plastic Business Cards
Present current and potential customers with a unique, multicolor plastic business card made by Eloquent Touch Media. A clear and frosted cards have a  translucent effect that is second to none. They will not crease, fold, smudge or tear. Yes, you can fairly see the other side right through this type of card. It gives the card an artistic feel of special effects incorporated in the design.
Eloquent Touch Media is number 1 plastic business card company in Nigeria. With a Lagos-based head office, we make plastic business cards that has the ability to level the playing field for your business. You will not find another product that will promote your business the way these cards will. We make transparent and opaque plastic business cards of any shape and colour.

Stand out from the competition with a custom plastic translucent business card. You can also opt for our USB Business Card Flash Drive, paper business cards or metal business cards. See pricing