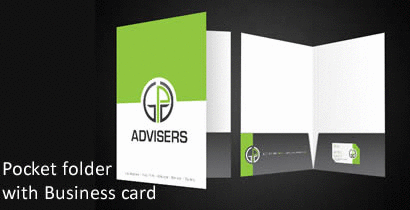 Folder/File Jacket Design and Print
When looking to design and print your folders in Nigeria, we are your best choice. Eloquent Touch Media is based in Lagos and offers different folder printing services. We can print a standard size 9" x 12" folder or just about any custom size, thanks to our exact die cutting. Apart from keeping your files and documents organized, folders are also great as branding tools for your business. We have a variety of custom and printing options to suit your marketing needs.
Custom printed presentation folders have many marketing uses, including new product launches, business proposals, welcome packages, orientation kits, trade show materials, customer service agreements, and much more!
In Eloquent, we have a versatile design options that are available to meet your marketing needs. Your folders can be printed on the outside with the inside either left blank or printed. It all depends on you and the purpose of the folder. Pocket folders are folders with pockets on one or both sides to hold and organize your other printed marketing materials. The pockets can have slits to hold business cards, branded pens or a mini-CD or DVD on one or both pockets.