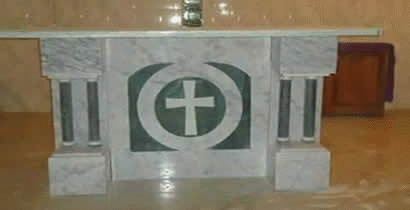 Marble Altar & Pulpit Construction
For the design and construction of exquisite Altars,Lactans and Pulpit with High Quality Marble and Granite in Nigeria, contact us. The Marble lectern is an elegant accent to any sanctuary; they make a great centerpiece for any sanctuary, with it's distinction and elegance it invites and embraces the congregation.We are the leading name in creative construction of Marble, Granite structures of all kinds. Good thing is that we can deliver anywhere in Nigeria, be it Abuja, Portharcourt or Kano.
We are pulpit makers in Lagos Nigeria. Marble pulpit or altar is increasingly becoming popular in Nigeria for several reasons. Apart from the fact that it is simply beautiful, marble or granite pulpit is extremely durable too. Note that marble is used to construct the Taj Mahal and it is still standing there over 400 years later. Therefore marble is a better choice when compared to wood or glass in the construction of pulpit or altar for a place of worship.
Our innovative and creative designs, created by our professional team will last for generations to come. Our designs range from traditional to more modern appearances. We are also happy to provide advice on personal inscription and design
We are into Marble works in Nigeria. Contact us today to discuss your marble or granite pulpit or altar need.