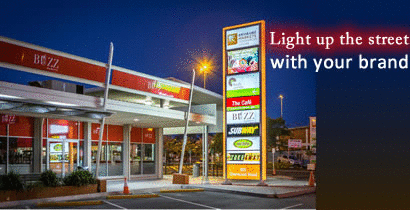 Pylon Signages
They say first impressions last the longest. With a Pylon sign in front on your business, you have the highest form of visibility and exposure for your business. Elevate your brand or business to new levels by exposing it with a Pylon Sign that shouts above all the other advertising noise and clutter

Eloquent Touch Media specializes in custom designed pylon signage services in Lagos Nigeria. We can guide you through our unique Pylon design process to discover exactly what type of pylon signage package best suits your business requirements. Our pylons signs range in size from as little as 2m high, to well over 16 metres high, and from under 1metre wide to over 6 metres wide. Our team of designers and R&D specialists can custom design you a Pylon Sign, or you can choose, from a number of Pylon Sign design templates.

Pylons are effective in any area where roadside visibility is a must. You can use a Pylon Sign to display your company's logo, this will draw alot of attention to your business. Pylon Signs can represent your business more ways than words can compare, drawing clients and others business closer to you.
We specialise in Shopping Centre Pylon Signs, Office Park Directional Pylons , Informational Pylon Signage, bank front pylon signage as well as petrol/service station Pylons.