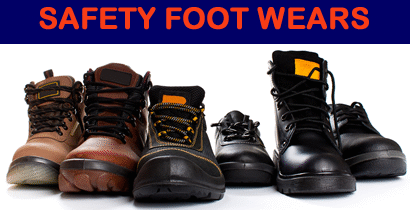 Safety Shoes (Foot Wears)
Reduce your risk at work with our incredible range of safety boots & footwear here in Lagos Nigeria. Do you know? Having a comfortable and quality safety footwear is essential to ensure you do not suffer from sore feet or back pain.
Eloquent Safety offers an extensive range of industrial safety shoes and footwears to suit your needs. Whether your business is large or small, no matter where you work or what you do, we leave you peace of mind at work. The safety footwear ranges we supply comprise many of the leading brands of safety boots and shoes available in Nigeria providing a wide selection of safety footwear to meet the varied safety footwear and foot protection requirements of a diverse range of industries.
We provide a wide selection of safety boots such as rubber sided, pull-on boots, iron steel shoes, joggers and specialised safety footwear for special conditions
we have built a reputation based on excellent service and competitive pricing on a wide range of top brands and styles for PPE in Nigeria
Should you require pricing for safety footwear, industrial workwear or personal protective equipment(PPE), please contact EloquentSafety and we will gladly provide you with a competitive quotation.