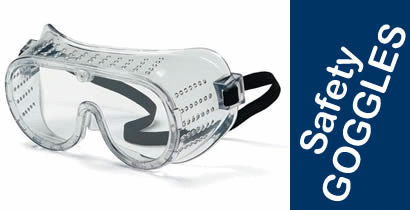 Safety Glasses & Goggles - Eye Protection
We are a top safety googles and eye protection glasses supplier in Lagos Nigeria. Eloquent Safety is proud to be the leading online PPE supplier in Nigeria which supply complete range of body protection solution.
The expertise of our organization lies in offering Safety Goggle (Eye & Face Protection Solutions)  to our clients. It provides full protection to eyes from harsh sunshine, dusts and infections. It is stylish and is offered in shades of blue or black since this color makes harsh sunlight dim and allows visual clarity. Offered range is customized as per needs and requirements of clients. We are offering this at convenient price.
Eloquent is contributing to the supply and distribution of worplace protective glasses - construction safety glasses and safety goggles culture in the workplace by offering resistant, high-performance eye protection that can be worn with total confidence. 
Eye & Face Protection Solutions are supplied with the best coatings to resist the most demanding conditions of work safety spectacles, eye and face protection special lens tints for every task to optimise visual acuity and an impact resistance performance that exceeds current standards. We also offer work coveralls, safety hand gloves and other protective work wears. We supply the best brands from tested manufacturers