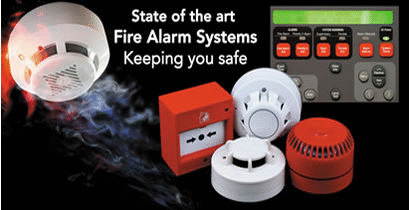 Fire Alarm & Detection Systems
Eloquent Safety offers fire alarm system supply, installation and repair in Lagos Nigeria. This means our customers can rely on us for their entire fire system requirements.The right fire alarm system can minimise fire damage and save lives.  By detecting a fire before it takes hold, staff and customers have a better chance of evacuating safely.
Fire alarms are essential for protecting lives as they alert the building's inhabitants that a fire is taking place. If there wasn't a fire alarm in place, these fires would go undiscovered, which would then be incredibly dangerous as they can spread quickly and have a disastrous impact. For complete protection for your home or business, look no further than Eloquent Safety; we are the online leading provider of fire protection in Lagos Nigeria. 
Apart from Fire detection & notification system, we also supply Fire Fighting Equipments including Fire hoses, foam systems, clothing, Sprinkler Systems, Fire Hydrant System, Fire Pump Sets, Fire Fighting Truck, etc. Workplace safety can mean different things for different environments.
Whatever safety means for your role, Eloquent Safety can help you to achieve it.